At less than 1 second past midnight on the 31st December we started a new decade.  What will this decade hold for you and I?
2021 (MMXXI) will be a common year starting on Friday of the Gregorian calendar, the 2021st year of the Common Era (CE) and Anno Domini (AD) designations, the 21st year of the 3rd millennium, the 21st year of the 21st century, and the 2nd year of the 2020s decade.
wikipedia.
2021 will begin with ….   The final transition to Brexit and all that will hold for us.
We shall still be in the clutches of the viral pandemic of Coronvirus Covid 19, but we do have vaccines being implemented now. However new strains are appearing which are causing more disruption and the UK like other countries are in almost full lockdowns.
In the USA Donald Trump (Republican) is about to leave the Presidency and Joe Biden (Democrat) will replace him. How this will change the world geo politics is yet to be seen.
"A recent Mckinsey report – The Covid-19 recovery will be digital stated 'Recent data show that we have vaulted five years forward in consumer and business digital adoption in a matter of around weeks.  Banks have transitioned to remote sales and service teams and launched digital outreach to customers to make flexible payment arrangements for loans and mortgages. Grocery stores have shifted to online ordering and delivery as their primary business.  Schools in many locales have pivoted to 100 per cent online learning and digital classrooms.  Doctors have begun delivering telemedicine, aided by more flexible regulation."
In 45 B.C., New Year's Day is celebrated on January 1 for the first time in history as the Julian calendar takes effect.
1st. Well, of to a good start. In the middle of the night mum fell and wounded her arm badly. Paramedics came and patched her up and gave her a talking to about her blood pressure and swollen legs! Of course she will not change her lifestyle. At 92 would you.  "We would prefer that she does not go to hospital, it's not nice there at the moment" Happily the rest of the day passed with no mishaps.  Ordered plug in night lights for the landing.
2nd. A beautiful clear sky, however just heard on Radio 4 that we may get another 'Beast from the East', I hope not. The District Nurse arrived at about 1.30 and changed the dressings on mums arm. Thanks again to our NHS and the great staff.  The threatened snow did not appear.  Took some photos of jacket Potatoes for one of my clients as part of an ongoing project to photograph all of their dishes served in the restaurant.
3rd. Excitement ! expecting a delivery from Amazon, a light for the landing and a large digital clock/calendar, a visit from the nurse again. Busy editing the photos taken yesterday whilst listening to BBC Radio 3.  The big news is of course the Coronavirus and in particular whether schools should be open. It seems pretty obvious to me that they should not. I Woke at about 1.45 am in the night with blood pouring! from my right ear, A large red patch on my pillow phoned 111 the doctor did not seem too concerned. Now deaf from congealed blood and need syringing. So little sleep again. Hopefully not a sign of a more serious problem.
4th. Hopefully local doctor will telephone me sometime. She did, prescribed anti biotic tablets.
5th. My birthday! 69 OMG. 1st day of new full lockdown. At last the government has decided that schools must close. The transition is almost complete, just one physical card and 13 online Birthday wishes. Nurse visited to change mums dressing. An uneventful day.
6th. Its cold and wet so not much walking or photography today. The arguments about schools being closed continue and mostly they are based around something other than the good of the child. Highlight of the day Collect my drugs! Still have a loss of hearing in my right ear, but I think it is beginning to return.
7th. News flows in from the USA about Trump supporters storming the Capitol "US lawmakers have certified Joe Biden's election victory, hours after Trump supporters stormed the Capitol in an attack that saw four people die. One woman was shot by police, while three others died as a result of "medical emergencies", officials said. The mob, which had been encouraged by President Trump, stormed the building in a bid to overturn the election result, suspending a Congress session." Worrying times for America and democracy.
8th. Cases of Covid 19 continue to rise at alarming rates as do the death rate. Hospitals are reporting that they are at full capacity. It is quite clear now that the Christmas celebrations have boosted these numbers, a heavy price to pay for seeing your family if you end up dead!
 9th. Not a lot happened !
10th. At last a lovely walk around Ravensthorpe Reservoir in the thick mud. At one point the mud came half way up my Wellingtons.  I have not been here for some months, it was good to return. Highlight of the walk a Goldcrest (horrendously difficult to photograph in poor light conditions). I did get a great shot of a friendly Robin. Also saw a Tree Creeper and Golden Eye male and female, whilst a Great Crested Grebe caught a small fish. 
As I drove home noticed huge numbers of cars parked up, with all the individuals in Harlestone Firs, still you can socially distance in there. So I spent most of the afternoon editing the images. Now listening to Words and Music BBC Radio 3 about Plastics.
11th. Ended my course of antibiotics, edited photographs and listened to lots of radio.
In the evening watched a movie 'Jupiter Ascending'  Directed by Lana Wachowski, Lilly Wachowski. With Channing Tatum, Mila Kunis, Eddie Redmayne, Sean Bean. The Wachowski Brothers (now sisters) were responsible for the trilogy The Matrix (perhaps one of the greatest science fiction films so far.)
"Lana was born Laurence Wachowski in Chicago in 1965; Lilly was born Andrew Paul Wachowski two-and-a-half years later, in 1967. Their mother, Lynne (née Luckinbill), was a nurse and painter. Their father, Ron Wachowski, was a businessman of Polish descent. Their uncle is the actor and Primetime Emmy Award-winning producer Laurence Luckinbill. They have two other sisters: Julie and Laura.  Julie was credited as assistant coordinator in the film Bound; she is a novelist and screenwriter.

The Wachowskis attended the Kellogg Elementary School in Chicago's Beverly area, and graduated from Whitney Young High School, known for its performing arts and science curriculum, in 1983 and 1985, respectively. Former classmates recall them playing Dungeons & Dragons and working in the school's theater and TV program.

Lana went to Bard College in New York and Lilly attended Emerson College in Boston. Each dropped out before graduating, and they ran a house painting and construction business in Chicago.

Beginning in 1993, they wrote several issues of Ectokid for Marvel Comics' Razorline imprint (created by horror novelist Clive Barker), which were credited to Lana. They also wrote for the series Clive Barker's Hellraiser and Clive Barker's Nightbreed for Marvel's Epic Comics imprint."

wikipedia
12th. Updated '81 Hamburger Heaven Takeaway menu and uploaded it to the website which I built and maintain. At the outset launch day we had 4000 page views!
Later today I have to travel to Heathrow Airport Term 2 to collect a friend returning from Ireland. After lunch I went to Ravensthorpe Reservoir to walk through the mud! Very few birds visible and once again My telephoto lens has broken, the auto focus feature is not working, turning out to be an expensive lens.
The trip to Heathrow went very well, very little traffic on the roads. 'Flight Radar' is fantastic. It allows you to actually see the aircraft take off and then you time your journey to arrive on time. Which is exactly what happened, as I exited the lifts at Terminal 2 Olive was walking out of the terminal building.
13th.  After the excitement of my trip to Heathrow a quiet day. Listened with interest to the developments in the USA over the impeachment of Donald Trump.
14th.  Trump is impeached. Will the Senate vote to enact the impeachment?
Car in for MOT. It is raining persistently so got a Taxi home. I normally walk. Passed. Created a mind map on the subject of Synaesthesia following a program on BBC Radio 4. So interesting. Imagine when you hear a word you 'see' a colour.! " Our understanding of reality comes from how we perceive the  world around us. "
15th.  An early visit from the nurse to change mums dressing. The wound is healing well.  Delivered my 500mm lens to Skears for repair.
16th.  Telephone call to invite mum for her Covid vaccination.
Had a waking dream, not nice. I became awake in the middle of the night, hovering above me, mum, pure white with a glow around her and holding a small bunch of flowers in her hand, very vivid. I let out a sort of scream and became fully awake heart pounding and sweating. Very scary, I half expected to find mum dead in her bed. Luckily it was a dream. I often 'see people' hovering in the room, and have done so since being a small child. (Apparently it is Sleep Paralysis!)
18th. Shopping at Sainsbury's. Someone tries to enter without a mask, guess what, Eastern European! Paid car tax and Insurance for car ouch! The rest of the day passed without event.
19th. There is a distinct lack of birds in the garden, and it has been so for some weeks now. The Robin and the Pigeons are the only regular visitors with the odd Blue Tit.
21st. Ear causing problems again, phoned doctors.
Taking mum for her Covid vaccine today at Kings Heath Community Centre.
The accumulation of bad weather and other circumstances has kept me indoors for some days now, I am finding it very testing. It is not an ideal situation for me, I like to be out and about!
22nd. Virtually no sleep. 1st thing walk to doctors.  Swabs taken and strong antibiotics prescribed along with some olive oil drops. Apparently the antibiotics will make me nauseas and give me Diarrhoea, something to look forward to I guess.  Walk home. Walk to shop to get mum's pension. So by 10.00am have nearly done my daily steps.  At last some sunshine. It is cold but nice.
23rd. We are now several weeks into the Governments vaccine program and approx 5 million people have been given it. Sadly the death rates are high  averaging over 1000 a day!
I am not feeling too good,  the effects of the new antibiotic I guess. My ear is not itching so much though, so hopefully progress is happening.
24th. What a night. Eventually got to sleep at about 3 am. A side effect of the anti biotics I am on. Feel like sh*t now.   It is now 10.40 and I am sitting working ( well doing my online tax return and a valentines menu for a client ) whilst listening to an amazing mix by Mary Ann Hobbs  'Ambient Focus' featuring  bands and players like Underworld, Alice Coltrane, the Deftones and Erland Cooper. Outside it is snowing heavily the roads and grass are now white. The first for us this winter.
25th. Repeat of almost sleepless night. The anti biotic tablets are the culprits, only 3 days left. Throughout my sleepless nights I have been watching the BBC program from 2013 'Fall'. What an incredible study of the psyche of a serial killer and 'normal' people, made better by the acting and direction. It is one of those programs that makes you want to watch the next episode. It has clichés, some questions not answered, but what you realise is that there is no normal! we all have a variety of fantasies, fetishes and needs.
26th.   A male Blackcap appeared in the garden, rare visitors to urban gardens.
Sylvia Atricapilla  The blackcap is a distinctive greyish warbler, the male has a black cap, and the female a chestnut one. Its delightful fluting song has earned it the name 'northern nightingale'. Although primarily a summer visitor birds from Germany and north-east Europe are increasingly spending the winter in the UK.  RSPB.
I telephoned Skears Photographic, my 500mm Sigma lens needs to return to the factory again! Turning into an expensive lens. Still the damage is my fault.
27th.  Filed my 19/20 Tax Return, and that was the most excitement for today. The Inland Revenue owes me £5.20!
28th.  The Blackcap is still visiting the garden, surprisingly.  Ordered a new book
"Like a Splinter in Your Mind: The Philosophy Behind the "Matrix" Trilogy" 
29th. It is The RSBP's birdwatch day today tomorrow and Sunday. I wonder what I will spot.  had a meeting today with a client, the outcome two new websites to build. I am looking forward to getting going on them.
30th. Within minutes of taking my drugs I felt sick and then felt odd all day. I need to observe this, am I developing a reaction to one or more of my drugs as I age. If so I stop taking them.
31st. Well, that's January over. From my point of view not very exciting, marred by falls and injuries (mother) ear infections (me) no telephoto lens (broken) too much time at home (weather.) lets see what February holds.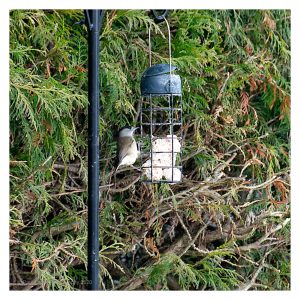 Male Blackcap in our garden on the 26th January
1st / 2nd.  Home, read, worked, watched films etc.
3rd.  At last! escaped the house and visited Summer Lays LNR equipped with wellingtons to combat the mud and water. Lovely to be out walking again, with camera of course. I encountered a very friendly Robin who perched close to me, allowed me to photograph it, and it even sat on my hand. Made my day. Following this continued the walk. After Summer Leys I drove along to Riverside for a Costa Takeaway coffee (not had one for many weeks), then on to Abington Park to photograph the sunset.
4th/5th. Normal lockdown days, nothing exiting enough to report on.
6th.  Our world is changing – Rapidly  "Chain stores are moving out of the high street. Recent high-profile deals, such as online fashion retailer Asos's purchase of high street brands including Topshop and Miss Selfridge from the Arcadia group, and the acquisition of Debenhams by another online business, Boohoo, have cemented the trend.
Neither deal includes any physical shops, meaning that 118 Debenhams stores and a further 70 Arcadia shops are closing.
As shopping increasingly moves online – a trend accelerated by lockdown – the question remains of what to do with all the empty space on the high street. Research by estate agent Savills suggests the UK may already have 40% excess retail space."
The Conversation   https://theconversation.com/saving-the-high-street-what-to-do-with-empty-department-stores-and-shopping-centres-154327
I went for a 2 plus mile morning walk around Upton Country Park before the forecast rain set in. It was quite pleasant. I am missing my 500mm lens though. I did mange to get some scenery/landscape shots plus some record shots of the park. See here to read about it .. link!
7th.  Heavy snow showers are forecast, however  by 4.30pm none have materialised, we may escape them. The rest of the week is supposed to be very cold -4.  It is reported that over 12 million people have had a covid vaccine. keep up the good work.
9th. Visit to a client about their Shopify ecommerce site. I am looking forward to developing this site with over 200 products. The only other excitement was collect my drugs!
10th.
11th.  At 9.20 my Covid Vaccine at Kings Heath Centre.  Done.  Had a lengthy conversation with Jay about the 'Aurora project'.  It seems that maybe there is something to the long standing myth surrounding it.   "In June 2017, Aviation Week reported that Rob Weiss, the General Manager of the Skunk Works, provided some confirmation of a research project and stated that hypersonic flight technology was now mature, and efforts were underway to fly an aircraft with it.[19]"
12th.   "The UK economy shrank by a record 9.9% last year as coronavirus restrictions hit output, official figures show.    The contraction in 2020 "was more than twice as much as the previous largest annual fall on record", the Office for National Statistics (ONS) said.
In December, the economy grew by 1.2%, after shrinking by 2.3% in November, as some restrictions eased." BBC.
So far no reaction to my Astra Zeneca vaccination apart from a very mild ache in my arm.
13th.  Rumours are stating to appear regarding the end of the current lockdown, perhaps Easter. To get back to some kind of normality would be great.
14th.   St Valentines day.  ….    "Back in the pub garden for Easter!" the Mail on Sunday declares, reporting on the prime minister's road map for easing lockdown, due to be unveiled on 22 February. The paper says the hospitality industry is likely to be allowed to reopen on 30 or 31 March for outdoor drinking or dining, but that the 10pm curfew and "substantial meal" requirement to order drinks will be abandoned." The mail.
15th.  At last sunshine and a reasonable temperature of 10 deg. Visited Summer Leys LNR very pleasant walk and a few nice photos. Followed that with a Costa takeaway and then on to visit a friend.
17th.   A walk around Upton Country Park, earlier it was sunny but by the time I started the walk it was raining lightly and overcast. Good exercise though. For some weeks now I have not felt well in myself and obviously had the ear infection with two lots of antibiotics.
18th. Woke in the middle of the night feeling quite ill and worse a very upset stomach! Spent the rest of the night running to and  from the toilet! I spent the rest of the daytime in bed sleeping until about 4 pm.
19th.  Feeling a little better and stomach seemed to have settled down.
20th.   Awake early,  but not feeling good at the moment, light headed drowsy. However plodding on.    Facebook: I use it regularly to keep track of bird interests among others, and to share my images with friends. One does notice though that a post that is of fluffy animals or something completely inane are the ones that get a lot of 'attention'. Post something anywhere near intellectual and you get very little response … just saying. 
22nd. The garden is busy with birds today, a good sign spring is approaching. Woodpigeons, Dunnocks, Blue Tits, Blackbirds, Crows, Magpies and of course a Robin. 
Some welcome news that the start of the lockdown lift is to begin in March.
I Watched Ex-Machina (again). Excellent film exploring, among other things the Turing Test, as applied to robots or androids, which are now becoming realities. The setting of the house is amazing if perhaps a bit impractical. However the scenery shots are wonderful. – –  " Ex Machina is a 2014 science fiction psychological thriller film written and directed by Alex Garland. Domhnall Gleeson, Alicia Vikander, Sonoya Mizuno, and Oscar Isaac star in a story that follows a programmer who is invited by his CEO to administer the Turing test to an intelligent humanoid robot."   – wikipedia.
23rd. A good walk around Summer Leys but only my 150mm lens so bird photography is limited, good that the temperatures have lifted a little though. It was surprisingly quiet (with people) compared to what has become the new normal during the lockdowns. Saw and photographed my first Siskin today, made my day.
24th.
25th. Bought a new lens (Sigma 150mm – 600mm Sport) Wow! a big difference in image quality compared to my previous 500mm lens. Now need to sell my previous lens. A Sparrowhawk made a brief appearance, but moved on before I could get to my camera.
I am still having a problem with ear so need to go back to doctors.
Hopefully I am  going to see my son tonight.
Visited Summer leys to test new lens. Lovely walk and some great images. So impressed with new lens.
26th. Up early ! Processed the images from yesterday some really nice shots. better quality glass and getting 'closer' with 600mm makes a big difference. Not my favourite household chore! I did the  ironing … whilst listening to Desert Island Disc (Sophia Loren).
After lunch went for a walk at Upton Country Park. Too many people. nice walk no really good images. I did see the Heronry though and a 'De Havilland Vampire' flew west to east over the park.  After the walk moved to Stortons GP briefly  and did mange to see some Goosanders.
Lovely clear skies at night to make the Snow Moon visible. I will photograph it tomorrow whilst it is also full.
27th. Lovely warm weather so after lunch of to Summer Leys LNR. The car park was absolutely full and far too many people to make bird photography easy! I decide to go to Riverside area, also rammed with cars and people! Ok, Abington Park. Also throbbing with people but I find a parking space and set of in pursuit of the wild Parakeets there. I found them high up in the tree canopy but did manage to get some shots, also some of a Wren and of course a Robin.
28th.  A very quiet day (deliberately) We did get takeaway Fish n Chips from the White Hart Gt Houghton. Delicious. Thank you Traci and Phil.
1st. No adventures today apart from a trip to Sainsbury's.
2nd. The ear is playing up again partially deaf this morning. I telephoned the doctors "you are No. 36 in the queue" ha-ha. Eventually, get to speak to a clinician who prescribes more antibiotics. It is looking like I need microsuction.
3rd – 6th. very uninteresting days. The weather is cold and grey so combine that with my ear problem and I am stuck indoors. Slowly my mind engages with an idea to create a lifestyle blog which eventually I may be able to monetise. The ear problem makes it so difficult to concentrate on anything so progress is slow. Over the next 3 days, I gather information and formulate the plan.  I commit to the idea and buy the domain name, time to get building.
7th – 8th.  I have an appointment to get microsuction on my ear. Hopefully, I will regain my hearing and lose the headache and constant throbbing.
9th. Starting to contact possible contributors to my lifestyle blog "The57Triangles". I have set up the WordPress site and installed the theme and vital plugins.
The big news of the day is the interview of Harry and Meghan. It is sad that the situation has come to this but it is a clear example of how the establishment in all its form is losing control and perspective on our modern developing world. Some of their (the establishment/royal family) values, beliefs and practices are now stuck in the 19oo's.
10th. Made a start on photographing MC's Jewellery for his Shopify site. Lighting is a nightmare. After playing with ideas finally got 8 pieces done! I plan to have a full day tomorrow.
11th.  I spent the whole morning photographing jewellery on behalf of a client. After lunch, I went to the Northampton Ear Clinic for Microsuction on my right ear. What a pleasant lady and experience. She (Jane) extracted two lumps of congealed blood from my ear canal and luckily found no damage to my eardrum. Now my hearing is fully restored.
12th – 15th. Lockdown blues. Not a lot happened chilled at home.
16th.  Photographed some jewellery (in the kitchen) followed by lunch then a trip to Milton Keynes to photograph some new additions to the collection of bikes for the Electric Motor Cycle Company.
17th. Organised and sent all images to TEMC. In the afternoon a visit to Summer Leys LNR, a nice walk and some great photos. In addition, heard and photographed a newly arrived Chiff Chaff.
18th.  Photographed more jewellery. I am about halfway through this batch now. Soon be time to begin populating the website. Mum a bit unwell so decided to stay with her and not visit the usual haunt.
19th. More jewellery photography!
 20th. Up at 5 am to take my friend to Birmingham Airport so she may return to Ireland for a few weeks.  The roads were very quiet and it made the journey quite pleasant. I was back home by 7.30.
Busy writing and developing my Lifestyle blog. Connected Google analytics and created several posts.
I have discovered some music by the Brambles (Charcoal) and I am being drawn back to it. It has haunting qualities and is ideal to sit and work to.
21st.
22nd. More jewellery photography after shopping, then edit and catalogue the images. The bright early skies turned to grey and overcast. No bird photographs today.
23rd. One year ago today the Government implemented the 1st of several lockdowns where all but essential services shut.
24th. I made the new lifestyle website (the57triangles.co.uk)  live today, and boosted the 1st post!  Photographed more jewellery.
25th.  Nationwide is to allow 13,000 office staff to choose where they work under a new flexibility scheme.
The UK's biggest building society said its "work anywhere" plan would allow employees more control of their lives.
Under the plan, Nationwide is closing three offices in Swindon, with 3,000 staff either moving to the nearby HQ, working from home, or mixing the two.
Other UK staff may be able to work from their local High Street branch if they prefer, rather than travel to offices.
In a Nationwide survey of staff, 57% said they wanted to work from home full-time after lockdown ends. More than a third – 36% – said they preferred a mix of home and office-based work.
In the afternoon I went to Harrington Airfield. Within 5 minutes a heavy rain shower coat very wet even sheltering under a tree. Eventually, the sun did shine and it was very pleasant. Skylarks singing away for most of the walk, in the end, some good shots of a Yellowhammer.
26th.
27th. I continue to work on the jewellery project and my new Lifestyle blog. In the afternoon I visit Summer Leys LNR a great walk and I photographed Oystercatchers' and Redshank. Also a Song Thrush and a Greenfinch along with a Heron and a Great White Egret.  I met the super friendly robin and stood for some minutes 'chatting' to it.
Qualifying for the 1st F1 race of the year took place and Verstappen took pole in front of Lewis Hamilton and Valterri Bottas.
28th. Lewis wins at Bahrain, a great race, and proves what a great driver he is.
29th.
30th. What a lovely day. Blue skies and warm enough to wear sandals and shorts. The temperatures got to over 20 degrees. So after lunch off to Summer Leys to take a long leisurely walk and soak up the warmth whilst getting some great photos. later paid a visit to a client and sat in the garden to get the final enjoyment of the sun.
31st. The Red Arrows are due to overfly Northampton at 11.19am! Mum has her appointment for her second vaccine April 8th.
1st – 7th  A very quiet spell with cold temperatures and even some snow showers.  I have been busy finalizing the 1st batch of jewellery images ready to start setting up the Shopify site. Yesterday we helped Phil of the White Hart put up his marquees ready for Monday's opening on the 12th. Let's hope the weather improves a bit.
8th. Later today I am taking mum for her 2nd Covid vaccine.
9th. Today Prince Philip died peacefully at home in Windsor Castle. Only 2 months short of his 100th birthday. Of course, the media is full of his story to the point it became overwhelming
10th. On Monday the first unlock begins. Pubs and restaurants can serve food and alcohol in their gardens (if they have one). Some shops will open.
11th – 12th – I begin to enter jewellery details into Shopify. Hours of boring work, but it has to be done. I received an invite to have my second Covid vaccine. I book for next Monday.
13th. More Shopify work in the morning and order some music items for '81 Diner. After lunch I decide to go to Summer Leys, it is a nice sunny day.  After a gentle walk photographing and watching a number of birds including Sand Martins, I end up at the double-decker hide. There in front of the hide the Garganey pair.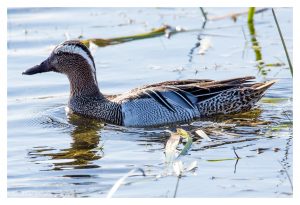 14th. Enter more jewellery! Set up the music player and Bluetooth speaker for '81 Diner then go and fit it. later I meet friends for a drink in a pub garden, too cold to stay too long.
15th. yet more jewellery entering to start the day.