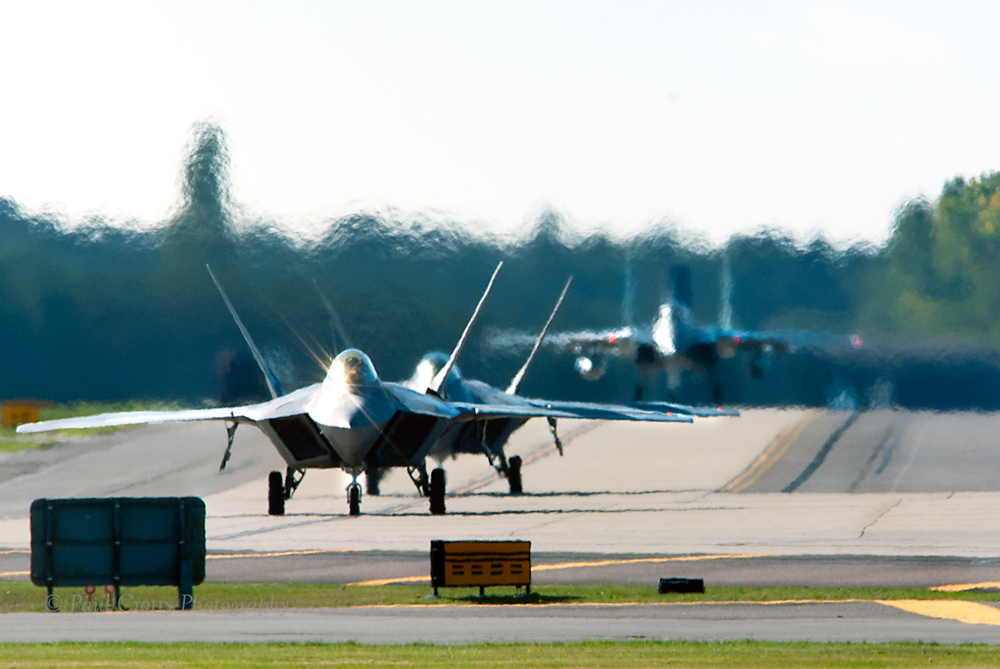 F-22 Raptors and F-15's taxing out October 2018
RAF Lakenheath – Suffolk
Royal Air Force Lakenheath or RAF Lakenheath (IATA: LKZ, ICAO: EGUL) is a Royal Air Force station near the town of Lakenheath in Suffolk, England, UK, 4.7 miles (7.6 km) north-east of Mildenhall and 8.3 miles (13.4 km) west of Thetford.   Although an RAF station, it hosts United States Air Force units and personnel. The host wing is the 48th Fighter Wing (48 FW), also known as the Liberty Wing, assigned to United States Air Forces in Europe – Air Forces Africa (USAFE-AFAFRICA).    
Source – https://en.wikipedia.org/wiki/RAF_Lakenheath
 _________________________________________________
If you have a facination with military aircraft then this is a place you should visit. In addition it is very close to RAF Mildenhall   – https://en.wikipedia.org/wiki/RAF_Mildenhall
At Lakenheath there is a viewing area and car park. However, because of the almost constant activity in the day time it can become very busy especially if the real enthusiasts know that something special may be happening. So, I would say find out via Facebook what might be happening on a given day, and arrive quite early. I usually aim for about 8.30.  –  https://www.facebook.com/groups/48thFW/
If you plan to stay a while remember that there are NO toilets there! but, there is a  van selling burgers and drinks etc. I am not sure if it is there everyday.
On some days aircraft may already be moving about early, on others it could be as late as 10.00 before something happens. Remember the base closes on American Holidays.
On a normal day groups of F-15's will depart and return with some doing 'touch an goes'.  You cannot fail to be impressed by the raw power of these aircraft and the skill of the pilots.
many years ago my son and I used to visit quite regularly and have never been disappointed.  More recently I have been twice and on my last visit ( October 2018) Lakenheath hosted visiting jets –
"We're going out there to do large-force exercise training to practice our air-to-air and air-to-ground skillsets, simulating like we're going to a war," Lt. Col. William "Wild" Wooten, 492nd Fighter Squadron commander, said. "Here in England, especially, it's very rare that we'll have F-22s, F-15Cs and Es, and F-18s all on the same ramp."

Two squadrons of local F-15s are scheduled to train with eight visiting F-18s and six F-22s until about Oct. 22, according to the Air Force.
Photographs and video
For the most part you need cameras with good zoom or telephoto lens – above 300mm I would suggest.  If you stay in the car park many of your shots will be through a wire fence unless you can find a few of the 'gaps'. Some people take step ladders!  If you want to photograph the aircraft in flight then practice tracking moving objects and get your settings correct.
To get an impression of acitivity look at the video at the bottom of this post.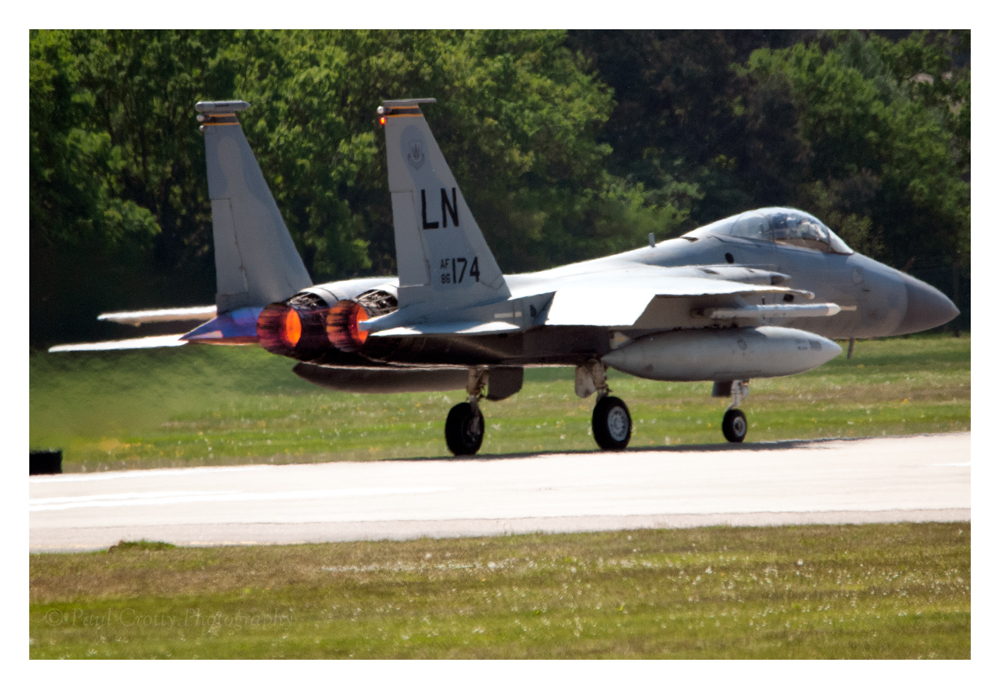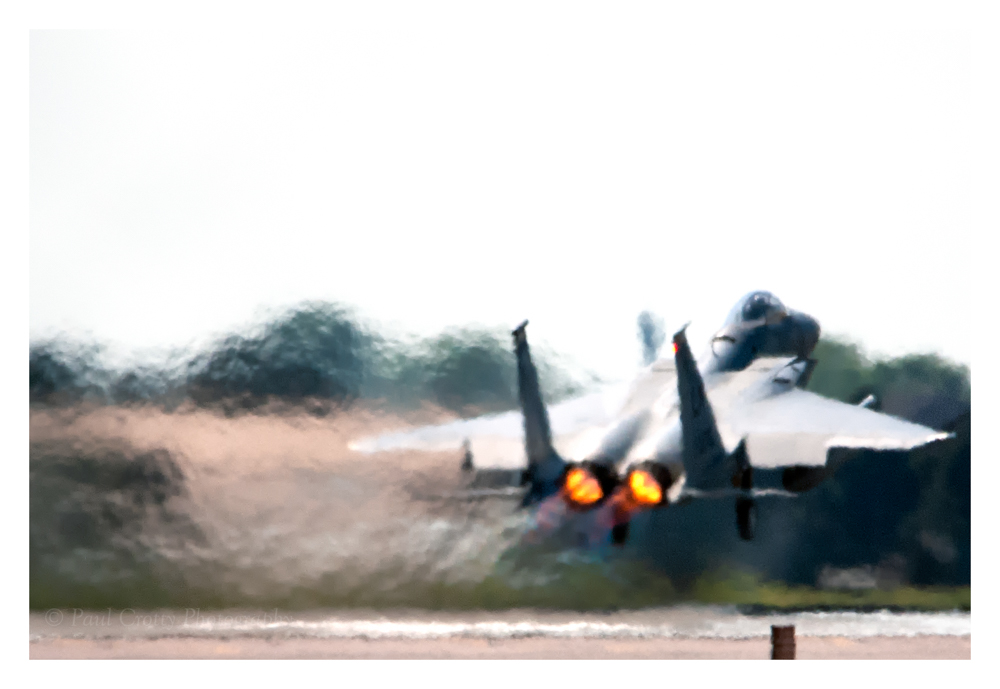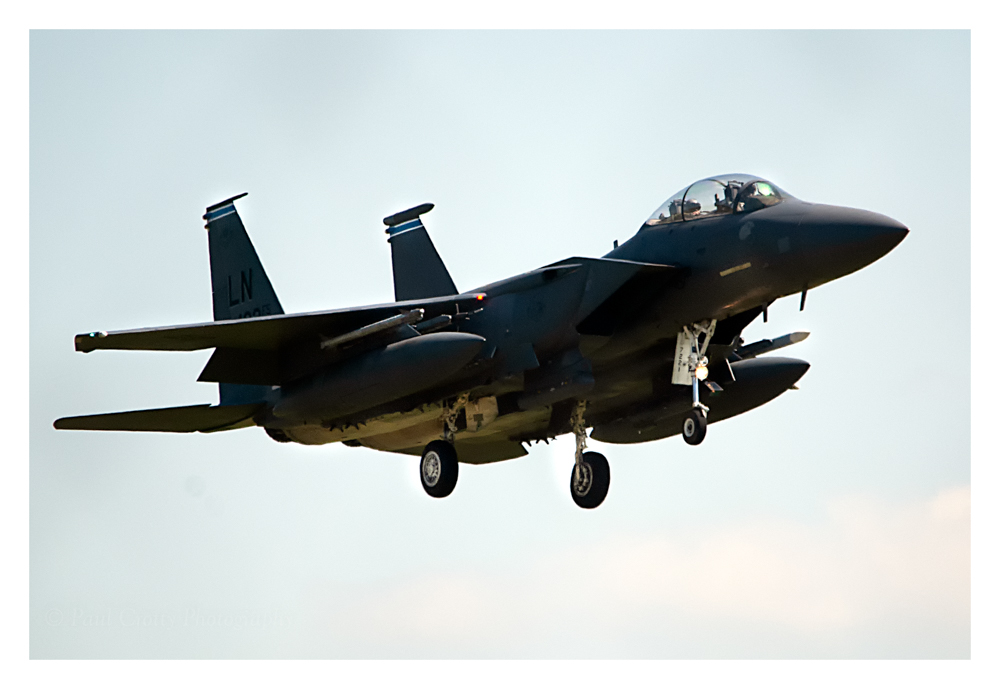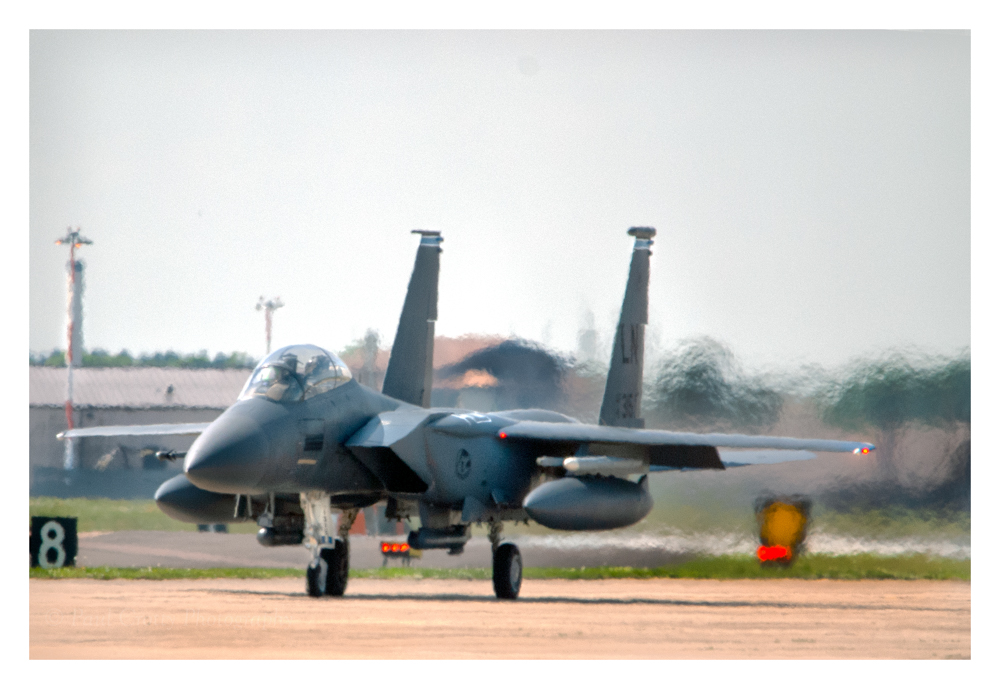 The images below are from  October 2018 when the F-22 and F-18 aircraft visited Lakenheath.