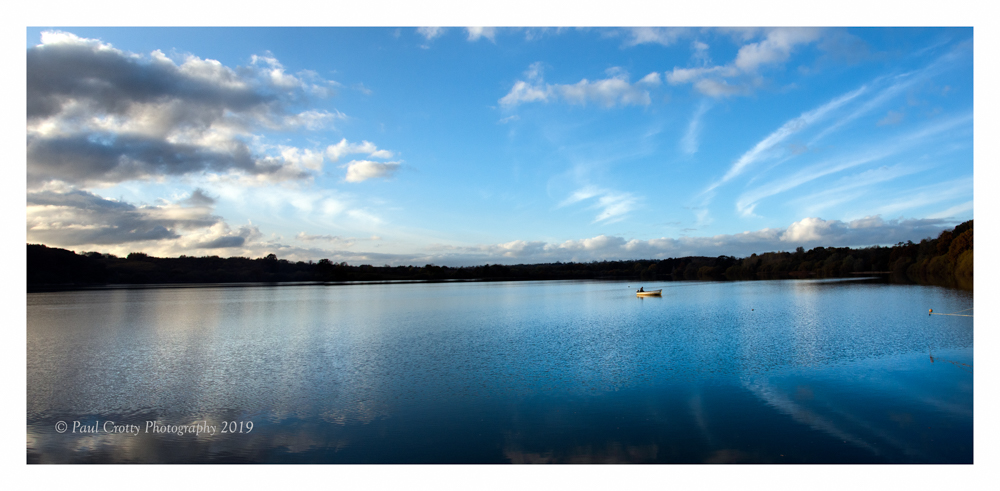 Two images stitched together
I visit Ravensthorpe on many occasions. It is a pleasant short walk which walking non stop would take about 30 minutes. Stopping and starting it turns into an hour or more. Usually with a wide selection of bird life to observe including Osprey, Great White Egrets, Little Egrets, Otters, foxes and many more. Just last week I observed a Ruddy Shelduck on the reservoir.
Sunday 10th November 2019.
Following a prolonged spell of very heavy rain I visited the reservoir to see which birds might be present, basically not a lot! So I enjoy the colours, sunshine and walk.
Because of the rain the paths had turned to deep slushy mud, making it difficult to keep your footing whilst looking for wildlife and fauna to photograph. Lots of Fungi though, mostly Shaggy Parasol.  Realising that wildlife was scarce I switch lens from my 500mm to the smaller 18mm to 150mm and begin shooting the leafy colourful scenes.
In addition the water was higher than I had ever seen it. The Fishing stations usually a few feet above the  ground were almost submerged and water was flowing over the shute.
I meet a group of young adults wearing day shoes,  clearly from Eastern Europe, I sugget that they do not walk further because of severe mud and lying water. They seem to ignore my advice, good luck then!
Disaster strikes.
I had put my 500mmm lens in my rucksack. Half way across the dam path I hear a clatter and the lens had fallen out of my bag. At first look it appeared to not be damaged, phew! Once home and further tests something is wrong with the stabilty function, Nooooo! taking it to the lens doctors today.
With the light fading and turning orange the trees light up with colour. In the distance are a few gulls and 2 Great Crested Grebe in winter plumage, a few swans and the usual Mallard.
A walk of mixed emotions.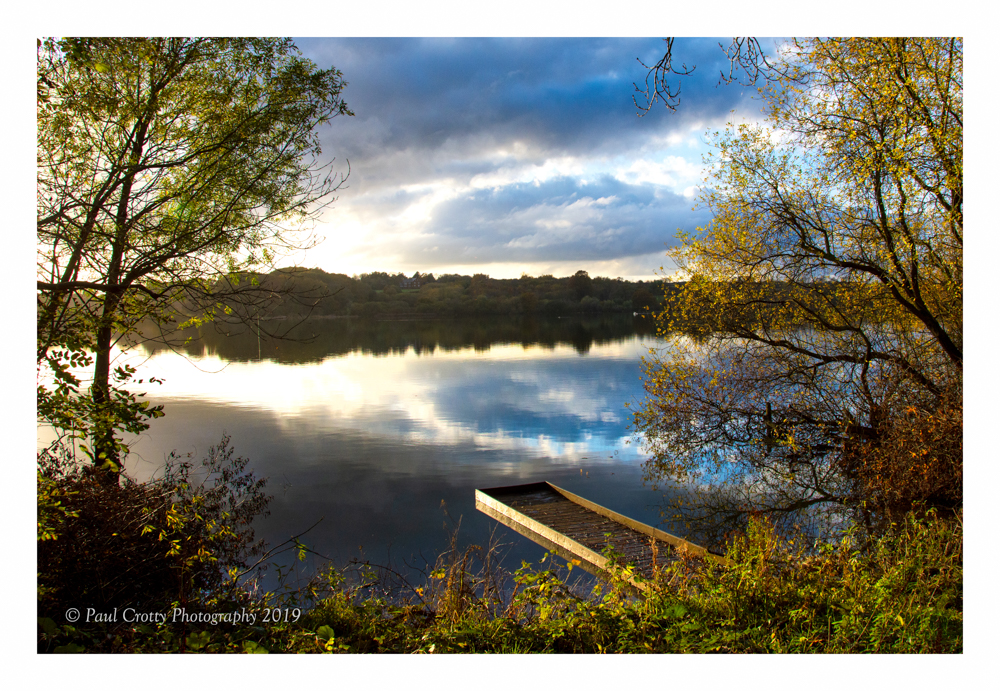 High water! Normally the pontoon in shot is  several feet above the dry! ground.