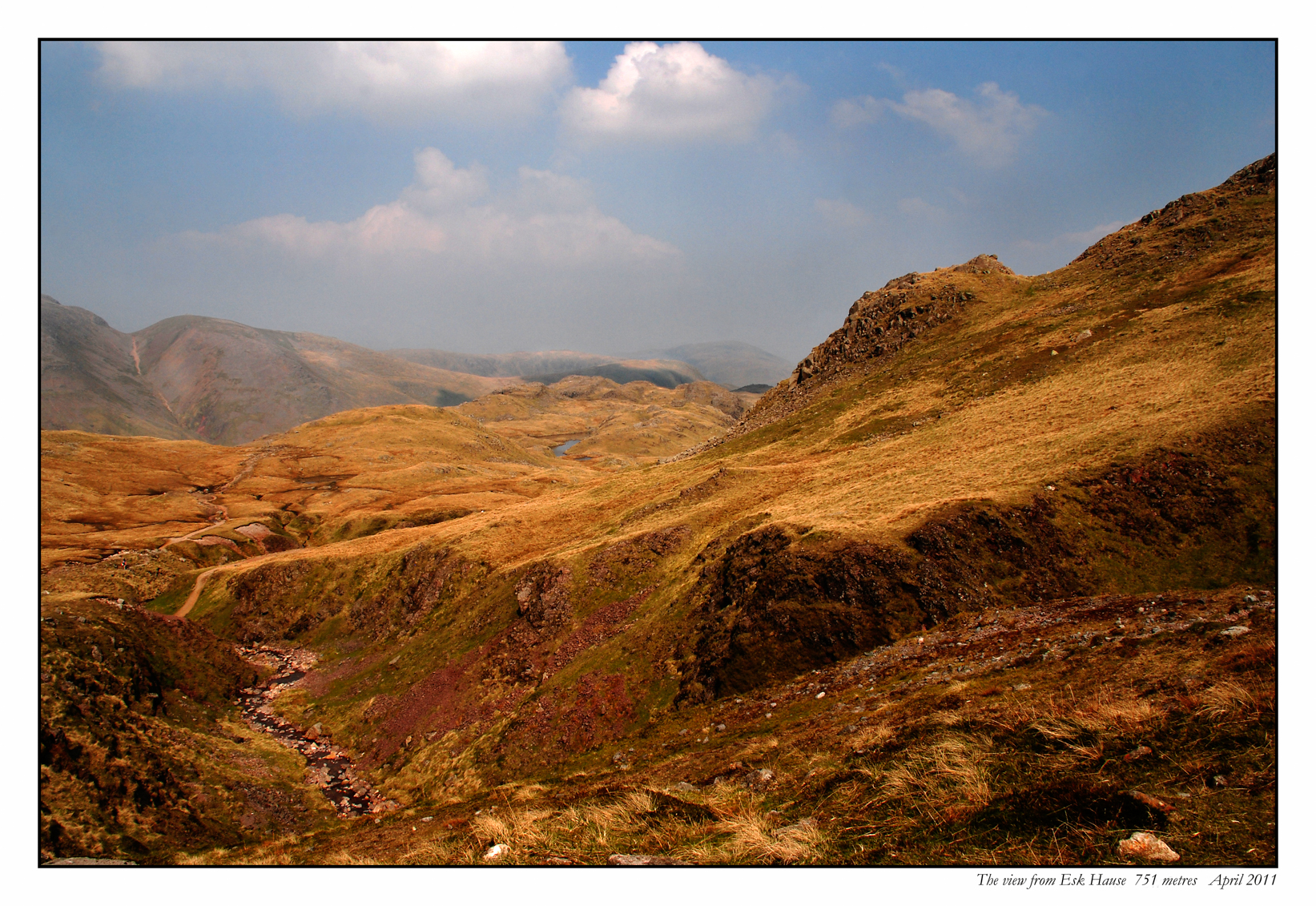 SCAFELL PIKE –  APRIL 2011
This walk began at Wasdale Head car park (NY18720 08502) elevation 79 m. There is a shop, toilet facilities and a hotel and pub here so everything you could want. The drive to Wasdale Head along Wast Water is spectacular. I did it at 7.30 in the morning. I could have stopped and sat by the water all day looking at the scenery (some do).  The weather was superb, sunny but not too hot. For the first part of the walk I needed my lightweight jacket on.
You begin the walk by walking past the hotel and follow the beck. Just past the hotel is a beautiful old arched bridge. Onwards, follow the beck along it's nice and flat and several wooden bridges let you 'zig zag' over the beck as you head for the open valley. To your right is Lingmell and Lingmell Crag, to your left is Wasdale Fell and above that Kirk Fell. Follow the path along you can choose to walk the lower path following the course of the beck or veer to the left and climb up towards Napes Needle. Eventually you reach the same point just below Sty Head. If you are like me you will have stopped lots to admire the wonderful views. To the right is Peirs Gill a fascinating gully.
Great Gable is now clearly visible to your left. Ahead and below is Styhead Tarn. At this point you will meet people coming up from Seathwaite .  The path now climbs up towards Sprinkling Tarn which you walk past and onwards towards Allen Crags.  Basically you are walking around Great End. Now the views of Great Gable and other peaks are amazing.  
At Allen Crags more paths converge, so you meet even more people. You will turn right onto a path that takes you to Esk Hause. Continue climbing at Long Pike take a the path to the left and walk above Broad Crag following the path to the summit of Scafell Pike (971 m).  Enjoy.
For lunch I returned down to Long Pike and sat on an overhanging outcrop of rock. It was fantastic. I lingered here for about an hour. To return I took the express route. I went straight down past Long Pike, Round How and towards Piers Gill, which I followed downwards to pick up the path back along Wasdale Fell.  This was not a marked path and it was very steep, so care needed to be taken.
This is a great day out, wildlife, flowers, scenery and variable walking. There are many routes up to Scafell Pike, some a lot more challenging than this one.
Once back at the Hotel you can have a drink in the garden which over looks the Beck. On my visit the local farmer was working his sheep dogs in the fields whilst you soak up the sun and enjoy a refreshing drink.