"Three great forces rule the world: stupidity, fear and greed."
― Albert Einstein
and that is what seems to have caused this
"On Dec 5th 2019 (approx) The World Changed – due to Coronavirus"
Previous to that 11th September 2001
The disease appears to have originated from a Wuhan seafood market where wild animals, including marmots, birds, rabbits, bats and snakes, are traded illegally. Coronaviruses are known to jump from animals to humans, so it's thought that the first people infected with the disease – a group primarily made up of stallholders from the seafood market – contracted it from contact with animals.
Wired Magazine
It appears that for over a month China tried to cover up the existence of this virus and only late into December 2019 reported to the WHO.
Disease has afflicted humans ever since there have been humans. Malaria and tuberculosis are thought to have ravaged Ancient Egypt more than 5,000 years ago. From AD 541 to 542 the global pandemic known as "the Plague of Justinian" is estimated to have killed 15–25% of the world's 200-million population. Following the Spanish conquest of Mexico, the native population dropped from around 30 million in 1519 to just three million 50 years later. Today we are battling to control the spread of COVID-19, which has the potential to cause the most deadly pandemic in human history.
There is, however, a little known but highly successful field of science working in the background to unpick the mysteries of infectious disease. As I explore in The Maths of Life and Death, mathematical epidemiology is playing a crucial role in the fight against large-scale infectious diseases such as COVID-19.
 Source-   https://theconversation.com/how-to-model-a-pandemic-134187
It is clear that the differences in our figures and Germany is because they have been heavily testing and we have not, so there are many many more cases in the UK than the figures tell us.
**  There are now more than 730,000 infections globally and almost 35,000 deaths (Now 160,700 recorded deaths)
Sales of groceries in the UK in March beat all previous records as shoppers stocked up for a long period at home, according to consumer analysts Kantar.
The busiest spell was 16-19 March, when 88% of households visited a food store, adding up to 42 million extra trips across four days.
Year-on-year supermarket sales grew by 20.6% over the past four weeks.
Our Progress
Isolation! is going well so far, no sign of illness for myself and mum (91).  I am going out for walks but not near any one else.
I am discovering what I probably knew all along (my wife certainly did). I am happy with my own company. I have so many interests that it sometimes become difficult to choose what to do – one ends up doing nothing!
I am watching Game of Thrones start to finish again. Reorganising my photo catalogue 25,000 images.
Off to Birmingham Airport tomorrow to deliver a friend, who I am sure has not got the virus. A welcome break from the house.
Surreal is the answer, very little traffic, the airport carparks were empty, Literally no travellers in sight mine was the only! car in the drop off area. However only 4 planes to depart during the whole day.
Perhaps like some of you I am observing in myself growing frustration and anger at some of the antics of other people and businesses, in particular the Premier League who in most part continue to pay their players thousands of pound a week.
https://www.bbc.co.uk/sport/football/52120578
 Spring Has Arrived!
Yesterday (Saturday), although days are meaningless at the moment, It was warm and sunny. Time to sort the garden out, not for my sake but my mothers, it is the sort of thing she worries about!
It was good to be outside all day and I managed to get some great photos of a Robin. I cut the hedges and started to cut the grass, will finish it today (even hotter 20 deg).  My good neighbour helped me cut to tops of the bushes as I am not good on ladders anymore.  Needless to say I ached that evening.
I had two books delivered:-
Guide to British Tree –  Collins
Mortality  – by Christoper Hitchens.
Also, I have just  ordered: – 
The Peregrine by  –  A J Baker
Ulyesses by  – James Joyce 
The Garden has been gardened and gardened again, now helping neigbhour! 
Last night was a super full moon and I managed to get a shot of it.
Boris Johnson our Prime Minister was admitted to Intensive care, hopefully he will come through. 
Boris released from Hospital 12th April 2020
17/6/2020
NEW OUTBREAK IN BEJING
Monday 16th March
"UK PM Johnson: Everyone should now avoid social contact with others"
Friday 20th March 
Schools and Colleges Close.
Italy deaths outstrip China!
All Bars, Cafes, Restaurants to close.
Saturday 28th
Infections are doubling every 3 days and the death toll has now reached 1019 individuals.
Wuhan, the city where the coronavirus pandemic began has partially re-opened after two months of isolation
Spain's coronavirus death toll rose by 832 cases overnight to 5,690 (Spain is now at 15,834)
It marked a new high in the daily rise in fatalities in Spain
South Korea says for the first time it has more people who have recovered than are infected
Source BBC
Sunday 29th March –  UK PM. Boris Johnson
"It's important for me to level with you – we know things will get worse before they get better," the letter reads.
"But we are making the right preparations, and the more we all follow the rules, the fewer lives will be lost and the sooner life can return to normal."
Experts have said they expect the number of coronavirus cases and deaths to continue to rise for the next two to three weeks, before the effects of social distancing measures and restrictions on everyday life begin to have an impact.
Reported Deaths (it is clear that not all deaths related to Coronavirus are being reported or there is a time lag)
Sunday 29th March – 1228
Tuesday 31st March  – 1789
Thursday 2nd April – 2921
Friday 3rd April –  3605
Sunday 5th April – 4934
Tuesday 7th April –  6159
Thursday 9th April – 7978
Friday 10th April –  8958
Sunday 12th April – 10,612
Wednesday 15th April – 12,104
Friday 17th April – 14,576
Sunday 19th April – 15,464
Friday 24th April –  18,738
Tuesday 29th April – 21,678
Saturday 2nd May – 27,510
Sunday 10th May – 31,587
Wednesday 13th may – 32,692
Friday 15th May – 33,614
Monday 18th May – 34,636
Wednesday 20th May – 35,341
Sunday 24th May – 36,675
Wednesday 4th June – 39,746
Tuesday 17th June – 41,969
Thursday 2nd July – 43,906
24/4/20
It is increasingly looking like we shall be in Lockdown until the new year, what a depressing thought. It is clear that people are starting to get restless! comments on social media are becoming much less understanding and angry about many subjects but really these just reflect the unrest. 
Coronavirus: Virus tests now available to millions of workers
Highlight of the crisis. Donald Trump suggests injecting disinfectant into people!!
Rain has come which will help keep people in their houses but may lead to increased pressure on mental health. The Rain looks likely to be around for the rest of the week.
10th May 2020
Today the Government will announce plans to ease the lockdown, probably to be staged in Phases. 
13th May 2020
I am concerned that the USA is heading for a major disaster by opening thier economies too soon. Experts are predicting a major return of the virus in the Autumn. 
May 22nd 2020
South America is "a new epicentre" of the new coronavirus pandemic, with a particularly alarming situation in Brazil, the World Health Organization (WHO) said on Friday (May 22).
"South America has become a new epicentre of the disease. We see the number of cases increasing in many South American countries. This regards many of its countries but clearly the most affected at this stage is Brazil," said WHO emergencies programme director Dr Michael Ryan at a press conference in Geneva.
Brazil has had over 330,000 cases and over 21,000 deaths, according to Johns Hopkins University.
TRUE DEATHS WORLDWIDE
There is growing data to suggest that the death rate attributed to Coronaviris is much larger than official figures. By as much as 60%, here in the Uk at May13th that would make our figures over 50,000 not 32,000. The BBC has started to reveal this information and back in April the Financial Times did a feature on it. –   https://www.ft.com/content/6bd88b7d-3386-4543-b2e9-0d5c6fac846c
13/5/20
What will our lives be like
when we return to some sort of normality
The question of what is going to change in our world is growing in intensity and interest, some things are already begin to become clear. Interesting times.
Currently being discussed by commentators and jounalists
1. Online Shopping will increase and stay high.
2. Producers will sell direct to the public, cutting out the middle man (tradional shops)
3. Lots more people will work remotely (at home)
4. Social Habits will change (the number of times we eat out or visit the pub for example) 
5. Travel (some types) will change, one potential will the cruise industry to be decimated.
6. The Birth Rate will grow.
7. The use of communication apps will grow.
8. Contact social and business by video will grow and become a permanent feature.
9. Our relationship to government and social priorities will change
10. Our relationship with China may change permanentley.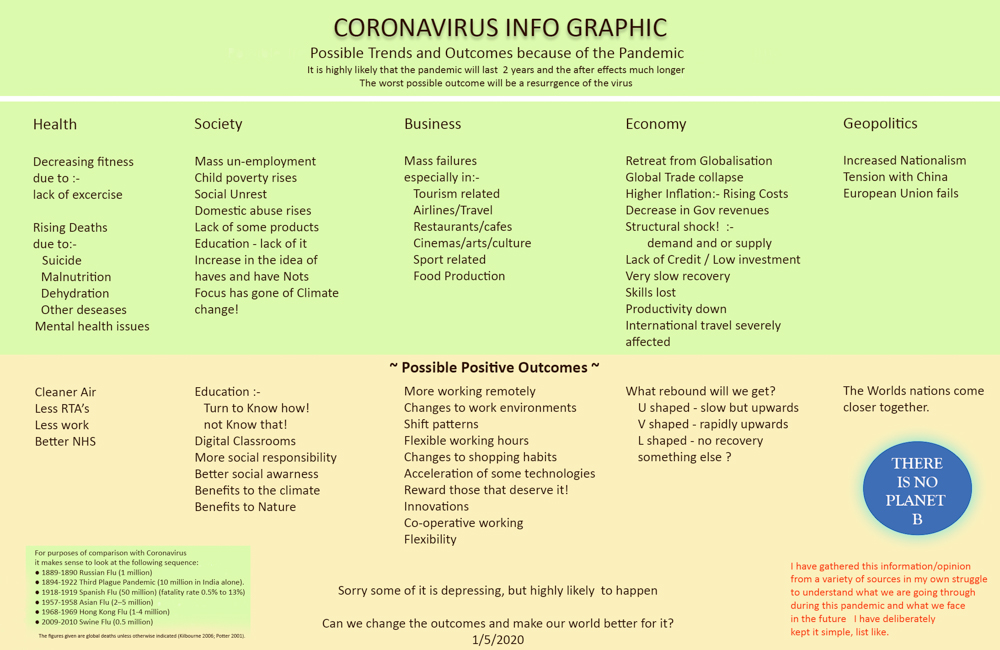 Corrections :-  Deseases should read Diseases and of (before climate) should read off. Corrected on the orginal should you want a copy.
BUSINESS FALLOUT FROM THE PANDEMIC
Rolls-Royce has said it will cut 9,000 jobs and warned it will take "several years" for the airline industry to recover from the coronavirus pandemic.
The firm, which makes engines for planes, said the reduction of nearly a fifth of its workforce would mainly affect its civil aerospace division.
~~~~~~
Virgin Atlantic has announced it is to cut more than 3,000 jobs in the UK and end its operation at Gatwick airport.
~~~~~~
A major energy provider is to cut 2,600 jobs, claiming the lockdown has forced it to accelerate cost-cutting plans.
Ovo Energy bought SSE's retail division four months ago, making it Britain's second biggest supplier of domestic gas and electricity.
~~~~~
2nd July2020
More than 12,000 people in the UK are set to lose their jobs after a raft of firms announced cuts in the past 48 hours.
The cuts are mainly being made by High Street retailers and in aviation – two of the sectors hardest hit by the coronavirus lockdown.
John Lewis has said it will close stores but has not confirmed how many jobs will go.
Topshop owner Arcadia and Harrods said they planned a total of 1,180 job cuts.
24th May 
Specialist Leisure Group.
About 2,500 jobs have been lost and 64,000 bookings cancelled with the collapse into administration of Specialist Leisure Group.
The hotel and travel company included well-known coach holiday brands Shearings and National Holidays.
Trade organisation Abta said the company, which specialised in products for the over-50s, was "significantly impacted" by the coronavirus pandemic.
BBC website
4th June
Car dealership Lookers has announced it will cut up to 1,500 jobs with the closure of more showrooms in the UK.
The company reopened its showrooms on Monday after the government lifted coronavirus lockdown restrictions.
Luxury carmaker Aston Martin also announced 500 redundancies, a week after naming a new chief executive.
5th June
Luxury carmaker Bentley is to cut 1,000 jobs in the UK, about a quarter of its workforce.
The company, which makes its cars in Crewe, is expected to offer workers the chance to take voluntary redundancy.
The move comes as the car industry faces a sharp drop in sales due to coronavirus. Bentley has also struggled to be profitable in recent years.
9th June 
Oil giant BP set to cut 10,000 jobs
BP has announced plans to cut 10,000 jobs following a global slump in demand for oil because of the coronavirus crisis.
The oil giant had paused redundancies during the peak of the pandemic but now it has said around 15% of its workforce will leave by the end of the year.
BP has not said how many jobs will be lost in the UK but it is thought the figure could be close to 2,000.